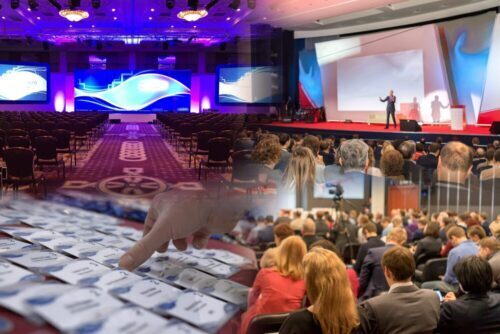 We are proud of our reputation and with a repeat booking rate of over 90%, we know we are delivering the right events for our customers.
Over the past 16 years we have worked with large corporates, smaller businesses and everything in between. Budget, size and expectations aren't issues for us and we'll promise to implement exceptional meetings and conferences that deliver both in terms of satisfaction, objectives and ROI.
We can be as hands on as you want us to be, the more you get to know us, the more you'll see us as an extension of your business rather than an external company and are always on hand to offer advice, help and support.
Our event management service is completely customisable and free of charge. We can help with every aspect of your event including the following:



Venue Finding

Finding the right venue in the right location is really important for the success of your meeting or conference. Once we have your brief, we will source a selection of suitable venues that meet with your criteria. We have built excellent relationships with a large portfolio of venues both in the UK and Europe and are able to negotiate the very best rates available. We can arrange site visits to view venues and help with all the planning leading up to the event date.
We have highlighted on the map some of the most popular destinations but this is by no means an exhaustive list, we have plenty of other options in cities, the countryside and by the sea.
Please click on the flags to see more details about the destinations.

We'll cover the following and more so you don't have to…
Frequently asked questions
I am organising a meeting for the most senior management team and need something a little bit special?
Over the years, we have organized meetings for many senior management teams and know many suitable venues in the UK and worldwide.
This year our annual management team conference is going to be in Europe, can you help?
Yes, we can propose excellent locations and venues and the most amazing places for off site dinners and activities to re-energise the delegates.
We will need transport from the airport to the venue.
Not a problem! We can organize this for you as we work with numerous transport companies.
We will need several meeting rooms?
That's ok, once we know your brief we will search and propose only those venues that can accommodate your needs for meeting space, breakouts and private dining.
We need more than the standard hotel AV equipment?
Full stage sets, large screens, video, roving/lapel mics, theming… Whatever the requirements we provide a bespoke service tailored to your needs.
How do I keep track of delegates that wish to attend?
We can set up an on-line registration site, monitor and provide regular reports to relieve the stress of collating all the information.
We need ID badges can you help?
Yes of course, just give us the logo or name of the event and we will send over designs for approval.
We would like to add some team building into our conference but like the activities from a few from your brochure…
No problem at all, we will mix and match for you to suit the timescale and budget.
Our Happy Clients
Magnum Event's went above and beyond on absolutely everything to make sure that all guests had a great experience. This was a four day event for our top sales people. We were working on a budget, but wanted it to look like there was no expense spared. After helping us select the, country, venue and hotel, Magnum came up with a creative and exiting itinerary. The schedule was tight, but Magnum made it run very smoothly. The result was that this was the most successful event run by the corporation and a feather in my cap to boot!!
Financial Company
Alison and her team did an amazing job arranging a very complex day with 280 delegates. The feedback has been superb with a very high score of 9 1/2 out of 10. We look forward to working the Magnum Events again.
Large Banking Group
Thank you so much for Saturday night – your kit, team and professionalism was amazing and truly exceeded both mine and the client's expectations – thank you!
Meon Valley, A Marriott Hotel & Country Club
Just a quick email to say thank you for all your help on Tuesday, the conference was a great success!!
Le Crueset
We have used Magnum Events extensively to source and book a large number of venues for our training courses over several years. Their service has always been friendly and helpful with excellent attention to detail, and we'd recommend them to anyone.
KLM Limited
The day was a complete success and I thank you for all your help. I look forward to working with you again.
Uniworld Communications
Magnum Events have proved themselves to be highly professional and completely committed to make each event work. They are friendly, consultative, offer great ideas and on the day of the event their team cannot do enough to help you. We would highly recommend them to future clients.
Resource Partners
Thank you ever so much Alison and Magnum Events this was our best Christmas Party ever and we will definitely be using you again in the future Thanks again.
HTEC
Magnum Events played a major role in the hospitality operation delivering a first class event in an extremely challenging environment.  I have no trouble in recommending them to any future clients.
Red Sky Sailing
Huge thanks to Magnum Events for an excellent service. Very professional, accommodating and most of all patient with all the changes we wanted to make and queries we had. No hesitation in recommending you to anyone organising an event
British American Tobacco
Magnum Events were extremely helpful and nothing was too much trouble. Very friendly & efficient service, helped make our event the success that it was.
British American Tobacco
I would have no hesitation in recommending to anyone and will certainly use the service again. Everything we asked for and more.
BP
Have had lots of great feedback already about yesterday, everyone thought it was an excellent day and loved the sports day so thank you for your help – it was great to work with you!!
B&Q
I just wanted to say a huge thank you. The first 2 such evenings took some beating, but I think this one probably managed it. I thoroughly enjoyed myself and I think everyone else did as well. So thanks a million guys – brilliant.
Guest
Just wanted to say – We all had the best time last night!!  The whole team has been doing nothing but talking about how good it was and similarly others in the office are asking now too!! So just wanted to say hats off to your guys and here's to more!!
National Air Traffic Services
We are still getting praise and thanks for such a great evening and I wanted to pass on ours and my thanks for all your help both with the Wild West Themed Evening and with the helicopter rides. You transformed the room, and all the games were successful. I would thoroughly recommend you to any one and I look forward to working with you again in the future.
Client
Magnum Event's went above and beyond on absolutely everything to make sure that all guests had a great experience. This was a four day event for our top sales people. We were working on a budget, but wanted it to look like there was no expense spared. The result was that this was the most successful event run by the corporation and a feather in my cap to boot!!
Ruesch International
We had a group of 20 people. Magnum Events knew exactly what to do to make sure we had a good time. There was no waiting around between events. It was constant fun!! I would definitely recommend the inflatable volleyball, no matter what age you are, it was hilarious! We will be using Magnum Events again for sure!
DSTL
The day was extremely well organised and met all of our requirements, with variety, challenge and loads of fun. Using Magnum events to manage the event meant that the whole day and the lead up to it was hassle free. We wouldn't hesitate to use Magnum again and would highly recommend them.
Achiever Business solutions
Thank you so very much for your help and support in arranging our very successful team day. The atmosphere here this morning is very buoyant with everyone enthusiastically talking about their own experiences. There are a few good photographs as well. Many thanks again for your assistance, and I will look forward to working with you in the near future.
Large Banking Group
Want to know more?
If you need any more information about the services we can offer, or would like to discuss your next project, our team are waiting to hear from you, give us a call or drop us an email – we're a friendly bunch!